National Workwear offers a variety of options to get the embroidered look you want. You can choose just text embroidery like your name, or you can choose text with one of our stock logos that represent your business or profession. Both are very affordable that can fit almost any budget. Finally, if you do need a custom design or logo, we can help with that too.
Fees for Embroidery

First line of text

+$6.50

Each additional line

+$3.00

Each Stock Logo Design

+$8.00

Waterproof Spray

+$10.00
Call for Pricing

Back Embroidery

Based on size and stitch count

Flame Resistant Nomex Thread

Optional

To bag individual employee uniforms by name

+$0.52
What You Need to Know About Stock & Custom Embroidery
Waterproof garments will no longer be waterproof after the embroidery. We do offer to spray the embroidery with a water repellant spray to help this issue (for an additional fee), but the waterproof spray will have to be reapplied every few months. Ask us about the waterproof spray.
For Flame-Resistant apparel, we use flame resistant Nomex thread, bobbin, and backing. Please contact us for current market pricing.
Please provide us with your daytime phone # so that we can contact you for any additional information.
After the final approval of art work and payment has been received, please allow an additional two weeks for orders with embroidery.
All embroidered items are not returnable
There is no minimum order!
Have Customization Questions?
Text Embroidery or Text with Stock Design Embroidery
Customizing Your Garment is Easy. Just Follow the Steps Below:
01
Choose a Placement on a Shirt or Jacket
Front chest embroider size is approximately 2" tall x 4" wide
On garments with a pocket, all embroidery will be placed above the pocket.
Brand logo will dictate placement of embroidery
Please call for back embroidery options.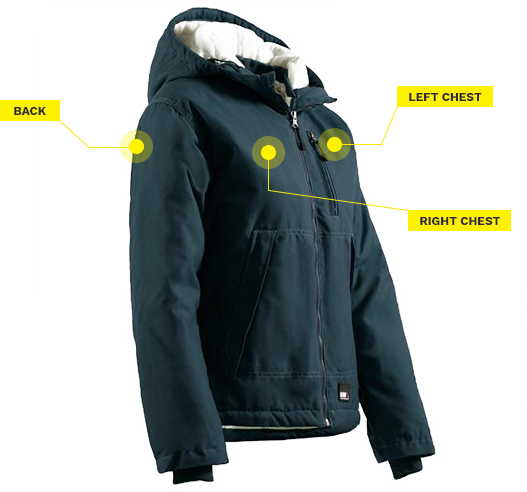 02
Choose a Font & Color Option
We will size the font to fit embroidered area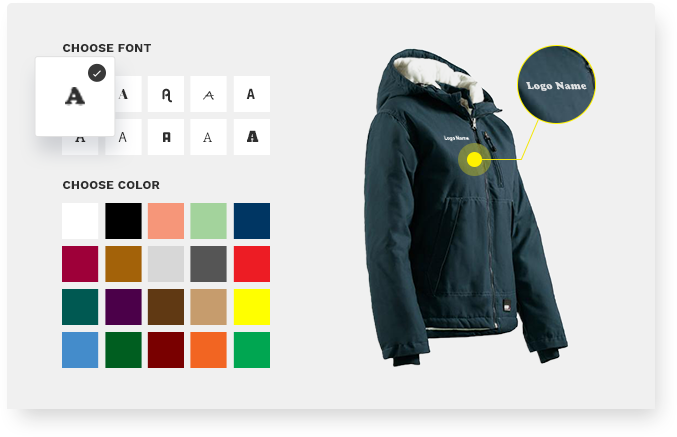 Optional
03
Choose a Stock Logo Design
Stock designs are approximately 2" to 3"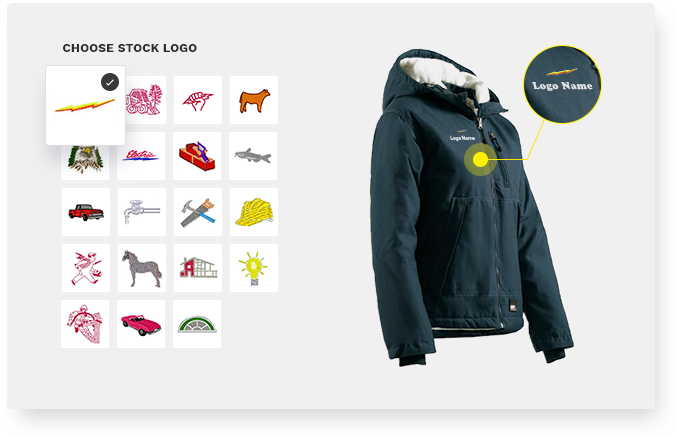 Optional
04
Choose Placement of Text if Ordering Stock Design
Text can be placed on top of logo, below the logo or around the logo.

05
Choose a Thread Option
We have 18 colors available.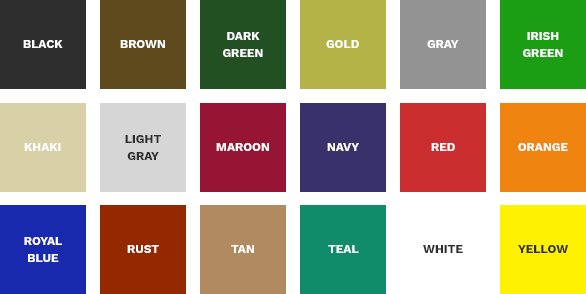 Uploading Custom File
All custom embroidery charges will be quoted to you based on the size and stitch count of your custom logo.
To have your garment custom embroidered, we'll need to have your digitized logo in one of the following file formats: DST, ERF, or XXX. If you do not have a digitized logo in one of these formats, you can send us a high or low-resolution file.
For high-resolution files, there will be a

minimum $50 fee

to have your logo digitized to the digitized formats listed above.
For low resolution files, there will be an

additional service fee of $25 per hour

to convert it to a hi-resolution file (vector file).
Set up fees do not apply for digitized logos already on file.
Also, for business accounts, we will keep your logo on file for up to 3 years making reordering easy.
Start Customizing